Backwater Reservoir, which supplies drinking water to thousands of people in Angus, Dundee and Perth and Kinross, is celebrating its 50 year anniversary.
The reservoir, which is located in Glen Isla in north-west Angus, was officially opened on 09 October 1969 by Queen Elizabeth II, following a short speech and the unveiling of a commemorative plaque.
It was created over a number of years by the construction of an earth dam measuring 42.6m in height and 570m in length, and holds more than 24 million cubic metres of water when full – the equivalent of around 9,600 Olympic size swimming pools.
Together with the smaller Lintrathen Reservoir 4km to the south, it is capable of supplying some 300,000 people with drinking water.
Scottish Water Corporate Affairs Manager Gavin Steel said: "Plans for the reservoir were initiated by Dundee Corporation and carried through to completion by the newly created East of Scotland Water Board in response to an increased demand for water in Dundee and the surrounding area.
-- Advertisement --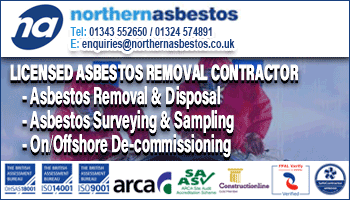 "Once the dam was created, it took around nine months for the reservoir to fill, before it came into supply and since then, it has continued to be a vital asset for the region – providing clean, fresh, great tasting water to thousands of people, as well as offering a great area for recreational activities and wildlife, which is enjoyed by many."
Fraser Miller, who was present at the official opening as a 6-year-old, has worked for Scottish Water, and its predecessors Tayside Regional Council and the North of Scotland Water Authority, for 32 years helping to look after the reservoir.
Looking back at his memories of the event, the Treatment Operator said: "It's a bit vague, but I remember the buses dropped you off at the end of the road and you were ferried up here in little minibuses. You sat in the grandstand over the back and watched the Queen unveil the plaque and then push the button which miraculously started the valve – that was really a highlight for all the wee boys and girls.
"The one thing I really do remember was that it was an absolutely freezing cold day sitting in that grandstand. The kids were really excited but I'm not sure if that was because of the dam opening or because it was a day off school! You didn't get many visits away and to get up here and see this place opening was great."
He added: "Without a doubt, if the reservoir wasn't here there would be major problems. I heard a story that when it was built, everybody laughed at the boy that decided to build it - they said it would never be needed but it's been proven it's a must as Lintrathen could never cope with the current demand. It makes you proud to think that you're looking after a prime asset for Scottish Water."
(MH/CM)