Four of North Ayrshire's most innovative and dynamic local businesses will be showcased at this year's leading building and construction show - Scotland Build Expo.
The free, two-day event will take place on Wednesday 20 and Thursday 21 March at the SECC in Glasgow.
The North Ayrshire companies attending are specialist resin surfacing company Azue Orange Ltd, cladding manufacturer Britfab Ltd, bespoke spring manufacturer Irvine Springs and steel fabricators McEvoy Engineering. The four businesses, along with a support team from Team North Ayrshire, will be located at stand A62 during the event.
Team North Ayrshire – business experts from the public and private sector – do some fantastic work helping local firms including the four exhibiting at Scotland Build Expo.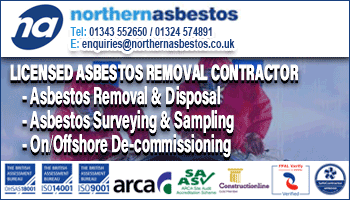 Councillor Alex Gallagher, Cabinet Member for Economy & Community, said: "This is an exciting time for North Ayrshire. The recent signing of the Ayrshire Growth Deal shows that Ayrshire is open for business and a number of exciting projects are in prospect.
"This event is a great example of providing an opportunity to showcase some of our growth firms and the potential North Ayrshire has to offer as a business location."
He added: "It's important that we hightlight North Ayrshire as a destination of choice for businesses and we hope by exhibiting at Scotland Build Expo this will emphasise the benefits of locating and growing your company in North Ayrshire to other firms throughout Scotland and the UK."
Alison McEvoy, McEvoy Engineering, said: "We welcome the Council's efforts to maximise the exposure for North Ayrshire businesses by working with us to promote our services at this high profile event.
"Hopefully, as a team we can direct some key industry operators towards the wealth of innovative manufacturing that is available in North Ayrshire."