Time and date
CONSTRUCTION DIRECTORY
Carr Marketing Ltd
Carr Marketing Ltd, suppliers of DriSteem humidification products has added a new Low NOx Gas Fired Humidifier to its range of humidifiers, the GTS® humidifier LX series. In the US, it was named as a 2018 Money-Saving Product Award winner by BUILDINGS Magazine and was recently selected as a winner of the 2019 Vision Awards, sponsored by FacilitiesNet.com.

DriSteem's new GTS LX Series is the only gas-fired humidifier on the market that combines high efficiency and ultra-low nitrogen oxide (NOx) emissions in a single unit. This allows the GTS LX Series humidifier to offer facilities professionals a next generation technological breakthrough in energy savings, installation flexibility, and environmental protection.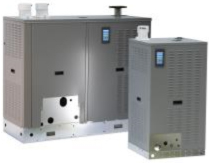 The condensing design of the GTS LX Series humidifier saves money on energy costs with greater than 90% efficiency. This condensing technology ensures that the flue temperature stays under 140 °F, saving on installation costs by allowing for the use of PVC, CPVC, or polypropylene flue piping – which is less expensive and easier to work with than stainless steel, and can be vented through sidewalls.
In addition to offering the highest efficiency in the market, the GTS LX Series also boasts ultra-low NOx emissions of under 20 ppm for a cleaner environment and to meet increasingly stringent air quality management standards for gas-fired humidifiers.
The GTS LX Series includes a universal water control that manages tank filling and draining with all water types from tap to deionized, so there is no need to change configurations based on water type when ordering equipment or retrofitting to fit new water sources in the field. The GTS LX Series maintains accurate humidity control through a wide range of load conditions, with a minimum 5:1 turndown ratio providing consistent output from low to maximum demand.
"We are delighted that the GTS LX Series was selected for the Vision Awards," said Mike Lanners, DriSteem Director of Sales. "This gas-fired humidifier has been designed and built to support operational cost efficiency and manageable maintenance requirements for industrial and commercial buildings."
Craig Wilson, Carr Marketing Ltd Managing Director, added, "This is an exciting new product for us, and we have had considerable interest already. The reduced installation costs will make this an attractive proposition for any customer considering gas fired humidification."
For more information about DriSteem's GTS humidifier LX series, visit
www.cmlhumidifers.co.uk
or call 01292 501538.
About Carr Marketing Ltd
Carr Marketing Ltd has over 40 years of experience in supplying and maintaining humidifiers and humidity management systems in libraries, museums, office buildings, hospitals, and laboratories as well as manufacturing plants in industries as diverse as pharmaceutical, electronics, photographic, food processing, IT manufacturing and data processing. Visit
www.cmlhumidifers.co.uk
About DriSteem
DriSteem is a premier provider of humidification, evaporative cooling, and water treatment solutions for commercial and industrial applications. DriSteem offers custom systems for critical indoor environments, such as health care, data centres, and other facilities requiring precise control of moisture and cooling in the air.
DriSteem's 50 year history of development and innovation has resulted in multiple patented designs that not only meet, but anticipate, customers' unique needs. DriSteem is a subsidiary of Research Products Corporation, manufacturer of Aprilaire®, the leading residential humidifier brand, as well as air cleaners, heat-recovery systems and HVAC accessories. Visit DriSteem
www.dristeem.com

Carr Marketing Ltd
The Stables, High Abbothill,
Ayr
KA6 6AQ