Time and date
CONSTRUCTION DIRECTORY
Ramsay & Sons Forfar Ltd
Extension Ladders
Our double extension ladders are excellent solutions for contractors, window washers, and a variety of industrial needs. They are also the perfect solution for those jobs around the home – like trimming trees or cleaning the gutters. Our double extension ladders represent a safe and reliable solution for both residential and commercial needs.
Essential Extending Ladders
Our extension ladders are the essential piece of equipment when you're carrying out tasks at a height, but you've got to make sure you choose the right one for the job. We find that some people may choose the wrong ladder that is either too long or not long enough when out on a job. You'll need to take into account the working height you'll most likely be at as well as the weight load that you'll be working with while using the ladder. Triple extension ladders are the right choice when you need a bit more height. The biggest in this category extends out to 18.8 metres and offers 81 rungs. Thanks to its compact design, it is reduced down to just over 7 metres when fully collapsed. This is the kind of versatility and flexibility you need with a triple extension ladder. Our extending ladders are built with strength and stability in mind, equipped with non-slip feet in most cases to ensure that you're safe while carrying out a job.
Double & Triple Extension Ladders
All our extension ladders are built to meet or exceed both government and industry standards. You can purchase with the full knowledge that you're buying the same high quality and reliability that Ramsay Ladders has come to be known for. As always, our double and triple extension ladders are designed to get the job done safely. We're committed to only offering the safest ladders out there and this collection is proof that we only delivery the best. Our extension ladders are tested, designed and built to ensure the highest possible levels of safety. Read our extension safety tips. Whether you're carrying out a DIY project or a trade job, you can do so safely with our stable extension ladders. Perfect for usage both at home or on a job, these ladders come in a range of styles so you're able to choose the most suitable on for your needs. Perfect for trade, domestic and even industrial use, these ladders come in a vast range of styles, giving you the ultimate choice. Get in touch with a member of our team today and you'll find all the answers to your queries. Find getting to your gutters an issue or struggling with the stability of your extension ladder? We're on hand to help, our experts will offer their experience and knowledge to assist you on your job, be it trade or domestic.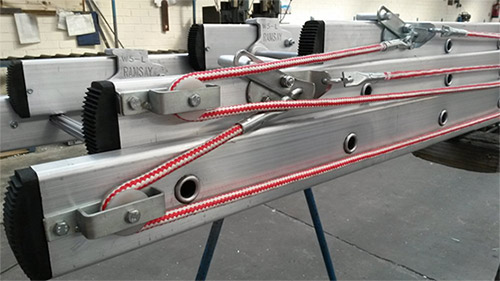 Ramsay & Sons [Forfar] Ltd
61 West High Street
Forfar
DD8 1BG