Time and date
CONSTRUCTION DIRECTORY
Robot Underfloor Heating
Robot Underfloor Heating is a Dutch manufacturer of high-quality Underfloor Heating manifolds using only the best in materials to recognised standard ISO9001 quality management system. Established in 1988, Robot has become the top supplier of underfloor heating systems in Holland. We believe in continual improvement, and are committed to our R&D in order to keep our products at the forefront of our market. Robot UK was established in 2014, and continues to go from strength to strength. Based in Inverness, we support the whole of the UK and Ireland with full Underfloor Heating Systems. Our task is to extend our supply into the UK with customers like you. We are already known for our quality, service and professionalism in this market. We at Robot UK's aim is to provide the best service, turn quotes around quickly, provide complete CAD drawings with pipe and manifold positions, offer technical and helpful advice, and give this all without charge.
Why Use Underfloor Heating?
There are several reasons why underfloor heating can be more beneficial than conventional heating methods, and with times changing fast, it is now more accessible than ever. We look at a handful of benefits from installing underfloor heating in your home.
The Floor is the Heater
Warm water is circulated through pipe loops laid under the floor, effectively making the floor one large radiator, but at much lower surface temperature than a normal radiator. All types of floor and floor coverings are suitable, and the system can be run on any type of heat source – oil, gas, electric or solid fuel boiler – and it works particularly well with Air Source Heat Pumps (ASHP) and Ground Source Heat Pumps (GSHP). The pipe loops are continuous so there is no risk of leak, and the whole system is virtually maintenance free.
It Gets Warmer
Underfloor heating emits a higher proportion of its heat as radiant heat in the lower, occupied part of the room, not up at the ceiling. This is more comfortable to the body, and therefore the heat is concentrated where it is required. The humidity is higher, so the room will not become stuffy, and as the heat is even over the whole area of the floor, there are no cold draughts, therefore you have warm feet and a cool head.
No Need for High Temperatures
Due to the radiant effect concentrating the heat in the lower part of the room and even distribution of the heat across the room, the room temperature can be maintained at a lower temperature than with a conventional radiator system. This translates into an energy saving of between 15% to 40%. Also, the water temperature in the system is lower, so the boiler efficiency will be enhanced, too, particularly if a condensing boiler is used. Underfloor heating will also enhance the efficiency of a heat pump.
Dirt and Dust Free
As the underfloor heating system is built into the floor, there are no crevices to encourage the build of dust and dirt, and as there is no hot air convection, there is no dust movement and unsightly black marks above radiators. Underfloor heating makes wood and tiled floor (which are easier to keep clean, and do not harbour dust mites) more comfortable and acceptable.
Design Friendly
One of the main problems with radiators is that they are always in the wrong place. People prefer to arrange their furniture to suit their own preference, not their heating engineer. Underfloor heating gives total freedom always, and does not use up wall space. Decorating is simpler – there are no radiators to paint, and wall papering is easier. It can be brought into use earlier in a project to aid drying out.
Bespoke Design
Underfloor heating systems are individually specified to suit customer requirements. All systems feature individual zones with temperature control, continuous joint-free pipe circuit, and pipe spacing to suit individual parameters. We have many installation techniques for both concrete and timber floors (despite popular myth, underfloor heating is suitable for timber floors). Underfloor heating is suitable for all buildings, new and old, industrial, commercial and domestic. We have a solution for every requirement.
High Quality
Made from Dowlex 2344 multilayer construction with a central oxygen layer, the PE-RT 5-layer pipe is produced to very strict quality-control standards, and each coil is individually tested. Suitable for continuous operation at 10 bar and 85-degree C, which far exceeds the characteristics of a pure plastic pipe, thus ensuring exceptional margin of safety and unlimited life expectancy. The multilayer pipe is guaranteed to be permanently 100% oxygen impermeable. Easily bent with minimal spring back ensures ease of installation.
Leakage Free
The manifolds are manufactured in 3mm Italian steel to ensure a long life free from leakage and corrosion. Factory assembled and tested, filling and draining connections and individual circuit manual actuators as standard. Optional flow gauges for precise balancing, if required. When used with a boiler, a pump and temperature control valve set is attached to the manifold, providing circulation independent of the boiler pump, and water temperature regulation. The use of this pump and temperature control valve set ensures compatibility with all types of boiler, but may not be required for use with a heat pump. We can support heat pump installations with our LT manifold.
Easy Access Control
Individual room temperature control is provided by wall-mounted thermostats controlling actuators on the manifold circuit valves. At the manifold, boiler temperature water is regulated down to floor heating temperature. The electrical controls terminate in a pump wiring centre, which simplifies the electrical work and can be used to stop the pump in the event of all circuit closing. Further control options of digital programmable thermostats or full network systems can also be provided.
Competitive Pricing
All components of Robot UK are of the highest quality – quality equal to any and better than most. However, this quality does not come at a premium, and our experience has proved that our quotations are guaranteed to be very competitive and simple to understand. They do not contain a myriad of 'optional extras' – only the items necessary to provide a complete and functional underfloor heating system.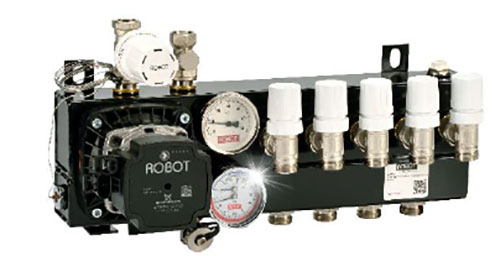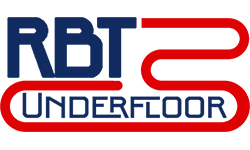 Robot Underfloor Heating
Unit 27 Carsegate Road
Inverness
IV3 8EX