Time and date
CONSTRUCTION DIRECTORY
USC Hydraulics

Contact Details
Address
Hozier Street
Carluke
Lanarkshire
ML8 5DW
About USC Hydraulics
Welcome to USC Hydraulics Supplier of dependable and cost effective Hydraulic, Pneumatic & Industrial Equipment.
USC Hydraulics offers hydraulic and pneumatic equipment supply and repair in the UK. We operate throughout the UK and are a well-known company within the industry due to the dedication and commitment we show to our customers' care and satisfaction. We pride ourselves in sourcing difficult to find parts for hydraulic and pneumatic equipment.
Worldwide Shipping On All Our Products | Outstanding Customer Service | Available 24/7/365
What we can help you with
Equipment supply & repair | Sourcing & Procurement | Manufacture & Design | Fabrication & Welding | Filters & Gauges | Hydraulic Pumps & Motors
Products by Leading Manufacturers
Alfagomma, Argo Hytos, Atos, Brook Crompton, Burkert, Burnett & Hillman, Casappa, Crompton Greaves, Danfoss, Donaldson, Duplomatic, Eaton, EMB, Gates, Griflex, Hi-Force, Holmbury, John Guest, MP Filtri, Norgren, Parker, Rexroth Bosch Group, Roquet, Stucchi, Sun Hydraulics, Tygris, Vickers
We Supply & Repair:
Hydraulic / Industrial Hose & Fittings, Hose Assemblies
Hydraulic Rams
Hydraulic Pumps & Motors
Electric Motors & Components
Pneumatic & Hydraulic Valves
Filters & Gauges
Seals & O-Rings / Kits
Lubricants, Oils & Greases
Bespoke Fabrications
Pressure Washer Hose & Equipment
Garage Equipment & Tools
Experience:
Company Established since 1982
50+ Years experience in engineering & hydraulics
Family business owned and operated
Based in Lanarkshire, operating worldwide
Competitive Pricing
Our Expertise:
Supplying UK, Europe & Worldwide
Sourcing difficult to find parts
Quality Products
Trusted & Reliable Suppliers
Quick and Efficient Delivery
Our Products and ServicesHydraulic Cylinders
We specialize in hydraulic engineering, being manufacturers and engineers of hydraulic equipment and components. We offer a first class service, including complete overhauls with most engine parts and components from stock.
Hydraulic Motors
We supply and repair all types of hydraulic motors in the UK, no matter who the manufacturer is or the application. Suitable for applications such as conveyor drives, winches, agricultural machinery, forest machinery, cranes, sawmill equipment and lifts/elevators.
Hydraulic Pumps
we supply and repair hydraulic pumps throughout the UK. We supply & repair all makes & models including old and obsolete units.
Hydraulic Valves
We supply all types of hydraulic, pneumatic & industrial valves from simple shut off valves, solenoid valves, flow diverters, butterfly valves etc to precision control valves, used for various applications from hydraulic to marine and industrial and are available in various materials such as bronze, stainless steel, brass, carbon steel etc.
Adapters
We provide all types of hydraulic fittings and adapters in various materials such as steel, stainless steel, brass, plastic, aluminum etc. Our fittings are of good quality and are reasonably priced.
Electric Motors
We are the Scottish distributors for Crompton Greaves electric motors and currently hold a massive stock range in our Scottish warehouse. Our electric motors are priced at very competitive rates without compromising on quality, get in touch and our sales team will be more than happy to advise you on the right option.
Filters & Elements
We supply all types of hydraulic filters & elements, return line filters, suction strainers, pressure filters & much more. Bosch, MP Filtri, Hycon, Donaldson, Argo Hytos, Fleetguard, HiFi, Filtrec to mention just a few. We can also quote for alternatives and even source or manufacture old obsolete items.
Hose
We supply Hydraulic/Industrial hoses manufactured in various materials and designed especially to handle oil, petroleum, acids and chemicals.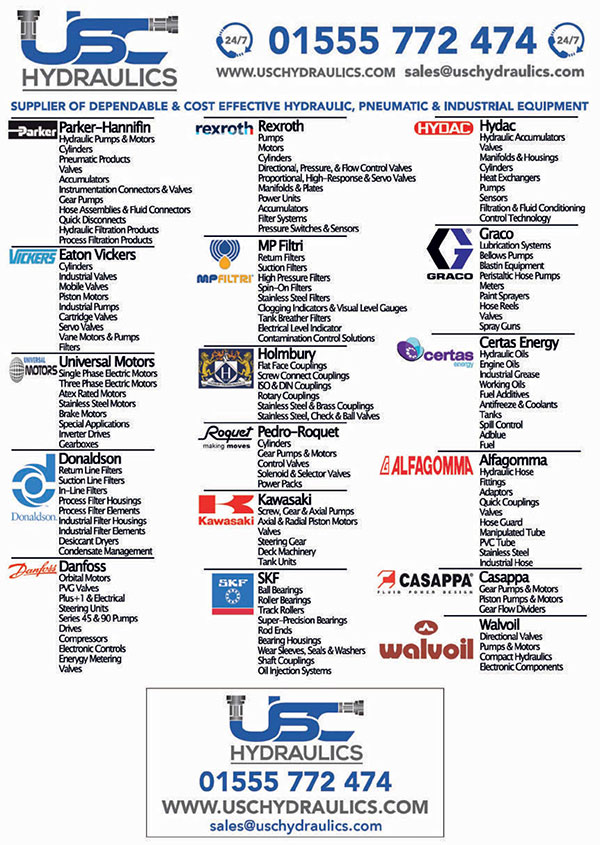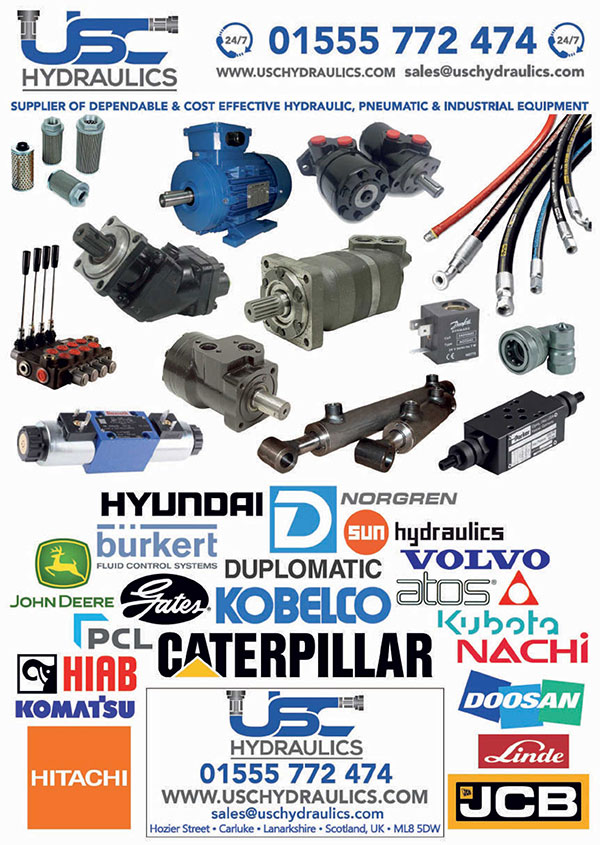 Reviews & Testimonials for USC Hydraulics

September 28, 2020
used this company for many years for our hydraulic hoses and adaptors great service and work ethic.
USC Hydraulics.

5

out of

5

based on

1

ratings.
Gallery
Click to close
Products & Services
Filters & Elements
Hose & Assemblies
Elements
Filters
Gearboxes
Electric Motors
Adapters
Hydraulic Valves
Hydraulic Pumps
Hydraulic Motors
Hydraulic Cylinders
Twitter Feed

Facebook Feed
USC Hydraulics Serves The Following Areas