Time and date
CONSTRUCTION DIRECTORY
Watson Abrasive Products Ltd

Contact Details
Address
143 Carlisle Street
Sheffield
County South Yorkshire
S4 7LJ
England UK
About Watson Abrasive Products Ltd

We supply high-quality European-bonded, coated and super-abrasive products such as abrasive and grinding wheels at very competitive prices, providing customers with tailored solutions for their needs. Our grinding consultancy service is customer specific and derived from our resources, with over 40 years of experience in the field.
We supply our customers with the right product at the right place at the right time and at the right price. Customers health and safety is of paramount importance to us, which is why we offer free, impartial advice on the use of our products and grinding consultancy relevant to your operations.
We can facilitate your requirement of any tool re-grinding or grinding-wheel alterations. These are further specialist services in order to provide our customers with a complete, all-round service, ensuring complete customer satisfaction.
The diversity of the products we supply is such that there is no company or industry, small or large, that we can't satisfy! Utilising our own delivery vehicles as well as our carrier, we can distribute both nationally and internationally, and offer next-day delivery on all stock items.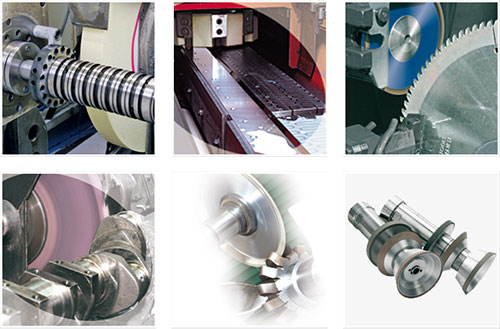 New DiamondX Grinding and Cutting Wheels for Cast Iron ApplicationsCost Efficiency:
Long Wheel Life and Less Downtime
DiamondX® delivers cost efficiency with much longer wheel life. Downtime in changing worn abrasives is dramatically reduced. Cost savings on abrasive consumables alone are up to 30%.
Environmentally & Operator Friendly:
Reduced Sparks, Less Debris and No Odour
Traditional abrasives produce a high volume of sparks and odour as well as debris from the abrasive wheel wearing down. With DiamondX®, sparks are reduced, odour eliminated and the only debris left is the material being worked.
The solid steel body of the wheel is recyclable and therefore 'greener'.
Safety:
Wheel Breakage Eliminated
Traditional bonded abrasives are susceptible to fracture and breakage that can cause injuries. This is a serious safety concern for many users. DiamondX® comprises a solid steel body with diamond grits brazed on to the surface, theoretically eliminating the risk of fracture.
The precision engineered solid steel base is in perfect balance, therefore eliminating 'vibration white finger' from the wheel source.
Wheel wear:
No Reduction in Wheel Size or Shape
Disadvantages of traditional bonded abrasive are short wheel life and continuously changing wheel size and shape during usage. DiamondX® offers extended wheel life, and its size and shape does not change throughout its life, therefore achieving the maximum effectiveness and efficiency from both the wheel and operating equipment.
Application:
Variety & Versatility
There is the full range of sizes available in both grinding and cutting wheels to suit your specific requirements.
The unique design of the Grinding Disc includes diamond grits on both sides, allowing the wheel to be reversible, and ideal to use both sides at the same time for tight spots and close corners. With the edge profile, the wheel is also suitable for ploughing on fins and flash.

Industries
We can supply abrasive products for your industry:
We are a family firm that is very proud of our reputation for giving excellent service to a variety of industries and companies both large and small. Contact us at any time to talk through your requirements, and we'll provide free, honest advice based on our 40 years of experience, to ensure that you get the very best solution for your needs.
Foundries
Manufacturing
Medical
Construction
Rail
Sport & Leisure
For any other questions or enquiries, please contact us!
Watson Abrasive Products Ltd Serves The Following Areas
Find Watson Abrasive Products Ltd in
Watson Abrasive Products Ltd General Description
abralon, abrasives chesterfield, abrasives products nationwide, Abrasives Belt Cleaners, grinding wheels,