Time and date
CONSTRUCTION DIRECTORY
About Tayside Loler Inspection Ltd
Definitions
Lifting equipment is work equipment used for lifting and lowering loads.
It includes the attachments used for anchoring, fixing or supporting equipment such as cranes, lifts, excavators and lift trucks.
Accessories for lifting includes any chain, rope, sling assembly or component kept for attaching loads to machinery for lifting.
Examination scheme means a suitable scheme drawn up by a competent person for the thorough examination of lifting equipment at such intervals as may be appropriate for the purpose described within the regulations.
Working equipment means any machines, appliance, apparatus, tool or installation for use at work.
Relevant Legislation
The requirements for the examination of lifting equipment are found within the lifting operations and lifting equipment regulations 1998 (LOLER).
Loler applies over and above the more general requirements of the provision and use of work equipment regulations 1998 (PUWER). Unlike previous legislation which applies to specific industry sectors, PUWER and LOLER apply to all work places.
LOLER covers work equipment that lifts or lowers a load. The following points need to be considered:
The type of load being lifted
The risk of the load falling and striking a person or object and the consequences
The risk of the lifting equipment failing of falling over whilst in use
LOLER is concerned with many aspects of lifting operations and lifting equipment, such as strength, stability and positioning of lifting equipment and the planning of lifting operations.
However, this guide is limited to the examination requirements of LOLER. An assessment of risk associated with the equipment must be made to identify where the provision for thorough examination and inspection within LOLER applies.
The thorough examination of lifting equipment must be carried out by persons of sufficient competence who are independent and impartial to allow objective decisions to be made. Our engineers can provide thorough examinations where required.
Different categories of examination are identified within LOLER examination should be carried out:
Initially before equipment is taken into service (there are some exceptions for CE marked new equipment)
Post installation where safety is dependent on correct installations
Where lifting equipment is exposed to conditions which cause deterioration that could lead to a failure
Periodic examinations are required: following any exceptional events such as an accident or long period without use.
Examination Frequency
These are every 6 months for lifting equipment used for lifting and lowering persons.
Access platforms, all lifting accessories ie: chains, sling, shackles and eyebolts
Every 12 months for all other lifting equipment, i.e. lift trucks, lifting machines, overhead gantry cranes.
However, LOLER offers a risk-based approach to examination. This means that customers can arrange for a scheme of examination to be drawn up based on their specific equipment environment and operational uses between examinations where the risks are acceptable.
We also have a CFTS Accreditation to carry out Thorough Examination certificate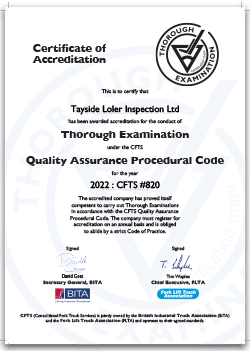 Gallery
Click to close
Products & Services
agricultural equipment testing
agricultural equipment inspection
forestry equipmention inspection
forestry equipment testing
axle stands
hydraulic jacks
Perth
Aberdeen
Dundee
MEWPS mobile elevated work platform testing
MEWPS mobile elevated work platform inspection
MEWPS mobile elevated work platform
LOLER Angus
LOLER Arbroath
LOLER scotland
IPAF Member 5527 Service / Component Supplier
Tayside Loler Inspection Ltd Serves The Following Areas
Find Tayside Loler Inspection Ltd in
Tayside Loler Inspection Ltd General Description
Plant Loler Inspections Tayside and Scotland - Tayside Loler Inspection Ltd