Time and date
CONSTRUCTION DIRECTORY
The Waste Exchange Ltd

Contact Details
Address
37 Wensleydale Drive
Camberley
GU15 1SP
England UK
About The Waste Exchange Ltd
The Waste Exchange (WEX)
WEX is an app for companies which generate waste and companies which collect it. Whether you are working on a demolition project or have a skip or tipper lorry WEX will work for you.
For DEMOLITION, GROUNDWORK AND BUILDING CONTRACTORS
WEX is a solution which revolutionises the way you deal with your skips and cart away requirements. The app saves you time, money and guarantees you'll get the best price and service. At the press of a button you will be connected to every skip and haulage company in the area where you need the collection.
SKIP, TIPPER, HAULAGE AND WASTE MANAGEMENT COMPANIES
If you operate a haulage company or have tipper, grab lorries and skips WEX provides you an immediate source and supply of customers looking for services in your area.
Matching
Does your site need general waste collected, skips, timber removed, muck away lorries, scrap bins, asbestos skips, hardcore or concrete removed - in fact, any waste removed? Then WEX will quickly connect you to a haulier that can help you.
Or are you looking for loads for your skips, tippers and lorries ? Then use WEX to connect to all the demolition, groundwork & building companies who are looking to have waste collected.
Whatever you want to move, list it on WEX and the nearest, quickest and cheapest supplier will be in touch.
All at the press of a button!
List
In just a few taps you can list everything you need to removing from your site or even your own home and quickly get quotes for the suppliers in your area - allowing you to select the most cost effective.
Prospective suppliers will get details of your requirements and contact you to offer their services.
Your waste, skip or lorry will be taken away at the best price in the shortest time - every time.
All at the press of a button!
Find
Find what you are looking for by setting up your preferences and the distance you are happy to travel and WEX will list all the items which match your requirements. Once you see something that you can help with WEX can put you in touch with that customer.
Whatever you collect or whatever vehicle you operate you will be put in contact with the specific customer who needs your service now.
All at the press of a button!
AVAILABLE NOW
It is FREE to register on The Waste Exchange and comes preloaded with credits so you can get started straight away. Download it now from the Google Play and the App Store. Get shifting that waste now!
LIMITED INTRODUCTORY OFFER
Unlimited credits for only £20* per month for the first six months.
To take advantage of this offer Contact Us
*Price Ex VAT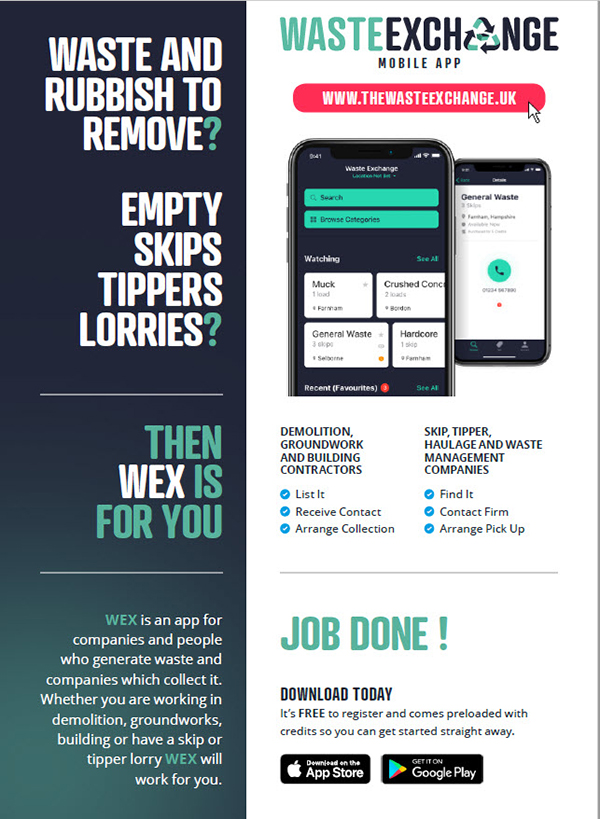 Gallery
Click to close
Twitter Feed

Facebook Feed
The Waste Exchange Ltd Serves The Following Areas
The Waste Exchange Ltd General Description
Smart phone App for Waste and much more