Time and date
CONSTRUCTION DIRECTORY
Chambrelan UK LTD

Contact Details
Address
CoalPort House
Stafford Court
Telford
TF3 3BD
About Chambrelan UK LTD
For over 50 years, Chambrelan has designed, developed and provided thousands of ball bearing slides and guidance rails for industry and for equipment manufacturers who have to put into practice translator guidance solutions.
Videos
Chambrelan as you have never seen it before
Tutorial – fitting the slam lock handle
Kit for sliding and tilting partial extension drawer E53GP
E1012 Six meter telescopic slide
Medical application with partner Médirol
It is commonly called slide rail, hinge, slide, support rail, sliding rail, door slide, telescopic slide, telescopic arm, telescopic rails, translational guide, slide system, slide rail or ball guide.
This product can be used as drawer slide, translation guide, hanging rail, drawer slide, door slide, keyboard drawer, handling rail, furniture slide, telescopic stand, slide for telescopic table horizontal guide or in some cases, in vertical guiding as for a door guidance.
Supplying in aluminium, steel and stainless steel, you will find the right product for your application.
We are constantly refining and developing our manufacturing expertise in line with industry changes, making us the leading manufacturer of heavy duty sliding systems in the world.
We control the complete manufacturing of its products from the raw material, through the profiling process to the finished product. We are able to manufacture a range of standard slides as well as specific slides according to our customer's specifications.
Manufacturing consists of 6 steps:
Preparation
Cold drawing out
Straightening
Machining
Surface treatment
Assembling
Chambrelan SA is still the only company in France to design, develop and provide ball bearing telescopic slides and linear rails.
Although the Chambrelan standard range enables us to cover most needs, some orders can be adapted to your requirement. We work with our clients and can adapt our products to suit your needs.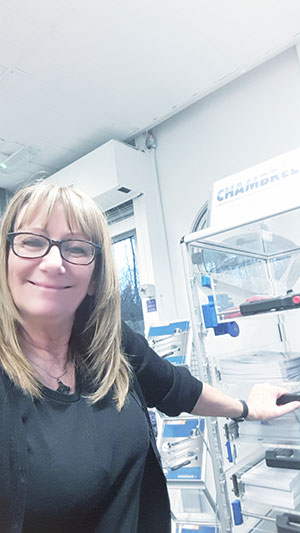 Reviews & Testimonials for Chambrelan UK LTD

August 21, 2019
Great sales advice, fantastic pair of RA7's which were delivered within days of ordering. Fitting them onto my van conversion to increase interior space. Thanks again everyone at Chambrelan.
Chambrelan UK LTD.

5

out of

5

based on

1

ratings.
Gallery
Click to close
Videos
Products & Services
Industrial
heavy duty
Zinc plated
Anodised aluminium
REACH Compliance
RoHS Compliance
Double extension
Reinforced ball bearings
Runners
Carriers
Disconnect options
Resistant materials
Synchronized slides
Locking slides
Reinforced slides
Super extension
Full extension
Partial extension
Linear guides
Linear guidance systems
Roller bearings
Steel
Stainless steel
Aluminium
Vertical guides
Horizontal guides
Recirculating ball bearing slides
Handling rails
Drawer Slide
Door Slide
Slamlock handles
Slide and Tilt
Extension
Telescopic Slides
Chambrelan UK LTD Serves The Following Areas
Find Chambrelan UK LTD in
Chambrelan UK LTD General Description
Sliding linear rails manufacturer