Time and date
CONSTRUCTION DIRECTORY
Rural House Ltd

Contact Details
Address
6A Drynoch
Crossal
Isle Of Skye
IV47 8SP
About Rural House Ltd
R. HOUSE is an entirely new concept in Rural Living, by Award Winning Architects Rural Design with James MacQueen Builders on the Isle of Skye.
The R. HOUSE has been conceived to create an affordable and simple solution for new contemporary housing in the Highlands and Islands of Scotland.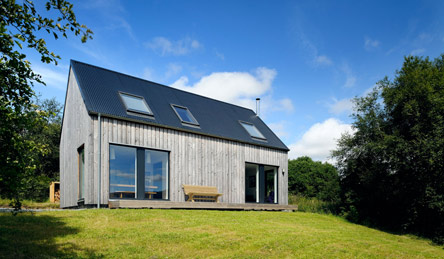 Designed to nestle comfortably in any site, the simple forms and robust materials of the R. HOUSE evoke the timeless forms of traditional Highland barns and steadings, allowing the house to fit comfortably in and around existing buildings, or an open site.
Constructed to meet the rigours of the Highland weather and the highest standards of energy efficiency the R.HOUSE is intended to provide a high quality home for years to come.
Simplicity is at the heart of the process. Fixed prices and speed of construction will take the worry and stress out of your project, allowing you to focus on enjoying your new home.
Architect Designed
The attention to detail is evident throughout the R. HOUSE. The result provides an exemplary solution to off-site construction and a template for rural housing in the 21st Century.
The layout and construction of the house is deliberately simple, keeping the cost of construction down yet allowing for a range of different options.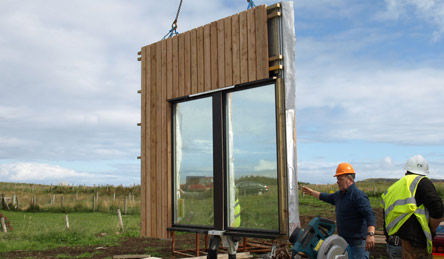 Architect designed, detailed and specified, each element of the house has been carefully considered and chosen for its suitability, sustainability and durability.
With a crisp and contemporary appearance the designs are based on a traditional simplicity that is well suited to the Highland landscape and in particular hard to develop sites. The designs can sit discreetly in-between existing buildings, unlocking opportunities for development in an area affected by high land costs which prevents local people getting the opportunity to get their foot on the housing ladder.
Designs available are 1, 2, 3 & 4 bedrooms variants which can also incorporate home workspaces if required.
Designed with choice in mind the R. HOUSE provides a unique opportunity for you to create a home tailored to an individual or family lifestyle and environment.
Prefabricated Construction
Prefabricated on the Isle of Skye, we bring together speed of construction with quality and cost certainty.
Modular construction makes R. HOUSE a unique proposition.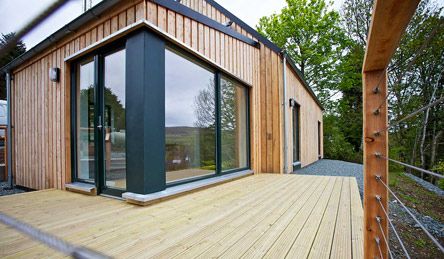 Our contemporary, sustainable and prefabricated houses are purpose designed for rigours of the highlands and islands by award winning Rural Design Architects.
The attention to detail is evident throughout and the result, provides an exemplary example of modular offsite building. R. HOUSE creates a template for rural housing in the 21st century.
Sustainable & Efficient
Most of the heat necessary for the house will be provided by a simple wood burning stove in conjunction with a whole house ventilation system with built in heat recovery. We offer various options for top up heating ranging from simple panel heaters to highly efficient renewable technologies.
Factory construction is safer, cleaner and allows work in all weather. This ensures swift production and fixed cost pricing.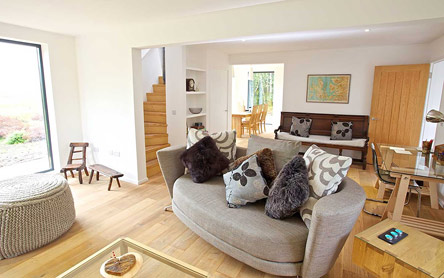 Durable Exteriors
The timber cladding is naturally durable and the vertical board on board construction lends itself to off-site construction. Available in a range of colours the simple form sits well in the landscape.
The roof is durable corrugated sheeting or can be upgraded to natural slate.
The windows are Scandinavian high performance pre-finished timber or can be upgraded to an aluminium finish.
The R. HOUSE can be constructed with a rendered finish. This option may have a longer construction period than the timber clad versions - but may better suit certain situations.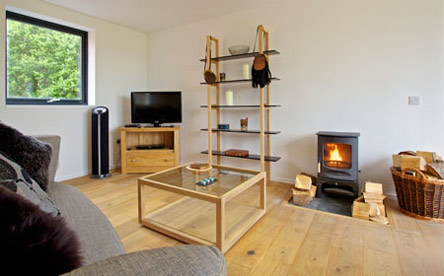 Finish Your Home
The interior options are numerous, and will be discussed with you in detail as you move through the order process.
The basic specification assumes that you will be installing your own floor finish, however finished options are available. A variety of kitchens and bathroom specifications are available.
Standard doors, ironmongery and wood burning stove are included in the price, with the option to upgrade should you require.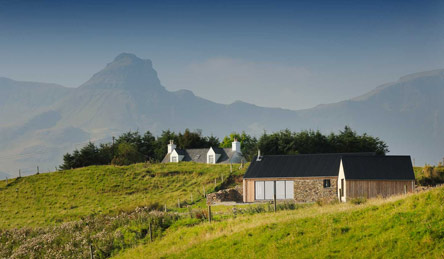 Rural House Ltd Serves The Following Areas