Time and date
CONSTRUCTION DIRECTORY
Goldhill Contracting Ltd

Contact Details
Address
Unit 4A Adams Way
Springfield Business Park
Stratford-upon-Avon
County Alcester
B49 6PU
England UK
About Goldhill Contracting Ltd
Goldhill Contracting Ltd
has over 100 years combined management experience within the strip out, office demolition and site services industry.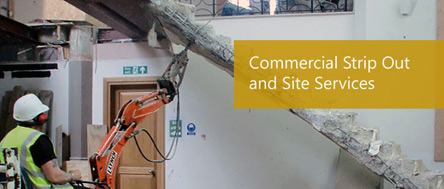 Client satisfaction is fundamental to our success and our wealth of experience and long term working relationships with our clients has earned us a respectable name in the industry.
We pride ourselves on the quality of our service, providing a professional, skilled and experienced project team, from general operatives to site managers, support and office staff, who all contribute to ensure a contract runs smoothly and effectively from start to finish.
Stripout & Site Services
Stripout
Lift and shift of materials
Project management
Site Setup
Waste Removal and Site Clearance
General Building Works
Wall and floor chasing
Trained Operators
Cleaning Services
Whether you require cleaning at various stages throughout your project or a full building clean on completion of the refurbishment and prior to handing over to your client, Goldhill can provide a dedicated team of trained cleaners to fulfil your cleaning requirements inside and out.
Generally, there is a build up of construction dirt and dust during the refurbishment process. Whether requested to carry out a new build clean or initial clean we give particular care and attention to ensuring that every part of the building, from the windows to sills, carpets to tiles are cleaned to the client's specification and ready for occupancy.
Goldhill can also provide cleaning of external areas, including cladding and brickwork, fascias, soffits and gutters, windows and frames, hard standing areas and channel and drain cleaning.
Where specialist cleaning and jet wash equipment is required, we have fully trained staff to carry out these operations.
Our Team
What to expect from us.
Friendly, competent and professional service providing high standards of work on time and safely.
Free on site survey and competitive quotations tailored to client's specification.
Measure and rate service (Bill of Quant) including complete and comprehensive breakdown of each element for consideration.
Guaranteed completion of works, delivered to client's timescales and budgets, plus adaptability to customer changes or needs.
Flexibility is key to a well run refurbishment project and we are more than happy to work around the demands of our clients including out of hours, if requested, at no extra cost.
Nationwide services, provided 24 hours a day, seven days a week.
Effective communication, co-operation and teamwork, liaising closely with our clients.
Implementation of Health and Safety awareness, providing a safe and clean working environment and maintaining controlled environmental practices in line with current legislation.

Contact us on 01789 295283


Gallery
Click to close
Products & Services
cleaning services west midlands
cleaning services east midlands
cleaning services midlands
cleaning services Alcester
office demolition Alcester
office demolition birmingham
commercial stripout birmingham
commercial stripout midlands
commercial stripout
site services west midlands
office demolition midlands
office demolition west midlands
office demolition
strip out west midlands
site services
office strip out
Goldhill Contracting Ltd Serves The Following Areas
Find Goldhill Contracting Ltd in
Goldhill Contracting Ltd General Description
Strip out site services diamond core drilling site clearance office demolition mezzanine removal