Time and date
CONSTRUCTION DIRECTORY
Address
Eagle House
Bilton way
Lutterworth
County Leicestershire
LE17 4JA
About Covac
COVAC
are the sole UK Supplier and Approved Applicator for Acothane DW and are the industry leaders in providing long-term protective solutions to combat the problem of corrosion and erosion of water retaining structures, utilising the very best in high performance, solvent free coating technology, Acothane DW.
Consequently, we have been instrumental in assisting many high profile clients to meet the ultimate goal of supplying consistently fresh, high quality, potable and drinking water. We don't just provide water tank repair, we provide a long term solution for the structure of your tank.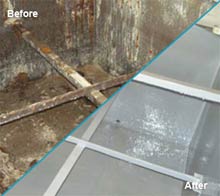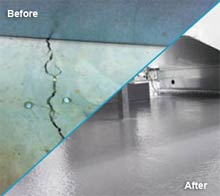 Acothane Polyurethane Coating
The ACOTHANE Solvent Free Polyurethane coating formulation was developed in the UK during 1979/80. Following extensive independent testing by a variety of major industry test houses including British Gas, CEGB, NNC, Thames Water and major Oil Operators such as BP and Shell, the formulation was accepted by these major operators and registered in the UK in 1984.
The ACOTHANE Polyurethane coating is designed to be applied to steel, concrete and glass reinforced plastic substrates included bridges and structures, off shore and marine structures, pipelines and water retaining structures.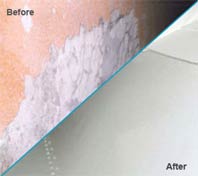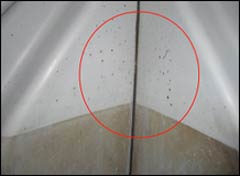 Water Tank Replacement
Most engineers who replace their steel water storage tanks for a brand new Glass Reinforced Plastic (GRP) water storage tanks believe that water tank replacement is the 'ultimate' solution. Unfortunately, having now repaired and relined literally hundreds of GRP water storage tanks, we know this is not the case. COVAC are constantly asked to carry out water tank repairs and reline GRP water tank liners, some of which are only months old.
This is the problem faced by all engineers who are responsible for the maintenance of GRP tanks, and even with regular cleaning and chlorination, bacteria such as micro-aquatic organisms will continue to multiply as they are protected in the habitat provided by air-filled cavities and fine cracks that often cannot be seen with the naked eye. These cavities and cracks in the internal substrate allow bacteria to nest and proliferate.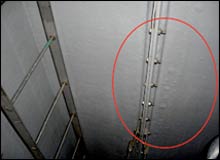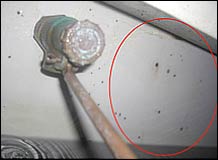 Covac Serves The Following Areas
Covac General Description
Sectional steel water storage tanks, Flat, steel, galvanised water storage tanks, Concrete water storage tanks, Stainless steel water storage tanks, Water storage reservoirs, Cooling towers, Plastic water storage tanks, GRP water storage tanks Replacement water storage