Time and date
CONSTRUCTION DIRECTORY
B & C Reconditioning (Gears) Limited

Contact Details
Address
Units 3 & 4, Amesbury Business Park
London Road
Amesbury
County Wiltshire
SP4 7LS
England UK
About B & C Reconditioning (Gears) Limited
Slew Rings- Slew Ring Repairs - Slew Ring Reconditioning UK
Established and trading since 1967, B & C Reconditioning (Gears) Ltd provides a quality service for the Construction Industry, Quarrying, Mining, Dredging Marine, Access Platform, Port Authority, Brickworks, Steelworks and Lifting Industries.
B & C can offer a quality refurbishment on all types and makes of Slew Rings, Turning Circles, Slew Pinions, Bevel Gears, Spur Pinions and Spur Wheels, etc.
New Slew Rings can be supplied from stock or manufactured to the customer's specification.
About Us
B & C Reconditioning
For over thirty years, B & C Reconditioning (Gears) Ltd has been providing a quality service to the construction, quarrying, mining, dredging, marine, access platform, port authority, brickworks, steelworks and lifting industries. B & C offers quality refurbishment on all types and makes of slew rings, turning circles, slew pinions, bevel gears, spur pinions and spur wheels.


Quality Assured
B & C Reconditioning (Gears) Ltd recognises Quality Assurance as a vital and integral function in ensuring that the company supplies goods and services in accordance with BS EN ISO 9001: 2008.


Unrivalled Expertise
B & C's highly qualified staff apply their experience and knowledge to offer the very best in reconditioning. Specialised welding techniques are carried out by approved welders. Advanced equipment is used for heat treatment, and all testing standards are in accordance with requirements of BS EN ISO 9001 2008.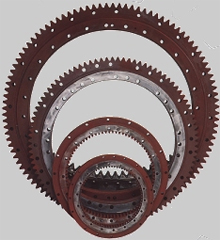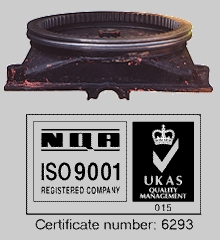 Slew Rings
All units are completely stripped, cleaned, and measured to determine wear and hardness tested
Gear teeth are inspected for wear or damage
New bearings are fitted on all reconditioned rings
Further hardness tests are carried out on completion
Induction hardening is carried out on raceways if required
All reconditioned slew rings carry a warranty
B & C can complete a reconditioned unit with a turnaround of only five to ten days
Large Bearings
We specialise in reconditioning large bearings up to 3.1 metres in diameter.
Without obligation, full-quality inspections carry a written report and advice from our experienced engineers
After reconditioning, all units go through our usual tests and procedures
All units carry a warranty after reconditioning
B & C has experience of slew rings for most types of machines, including dockside cranes, large excavators, tower cranes, mobile cranes, water treatment bearings and production line turntables.
Quality Reconditioning on Car Body Slew Rings
Removal from car body not necessary
Reduced downtime and man-power costs
A complete, economical quality service
Specialist car body slew ring refurbishment
All units go through our usual tests and procedures and carry a warranty
Free inspection
Gallery
Click to close
Products & Services
slew rings repair
slew rings replacement
Slew ring
New Slew Rings
Spur Wheels
Spur Pinions
Bevel Gears
Slew Pinions
Turning Circles
slew rings
B & C Reconditioning (Gears) Limited Serves The Following Areas
B & C Reconditioning (Gears) Limited General Description
slew rings uk wiltshire slew rings reconditioning uk Roller bearing slewing rings uk