Time and date
CONSTRUCTION DIRECTORY
GS Services UK

Contact Details
Address
Unit 7 SDH Trading Estate
West Street, Asquith Bottom
Sowerby Bridge
County West Yorkshire
HX6 3BS
England UK
About GS Services UK
Machining specialists

About Us
We are situated in Sowerby Bridge & are proud to be still manufacturing the highest quality Vertical Ale Extractors, made to our own original design for many years to small & major breweries.
The core business is the design and manufacture of beer raising products. A natural extension of this is sub-contract machining. Our machinery consists of CNC lathes, CNC machining centres & various toolroom equipment all ready for producing quality precision engineered components.
Products
Beer / Cellar Cask ale extractor dispensing equipment…. all designed, CNC machined & manufactured in house, using latest CNC machinery, assembled & ready to despatch from our shop.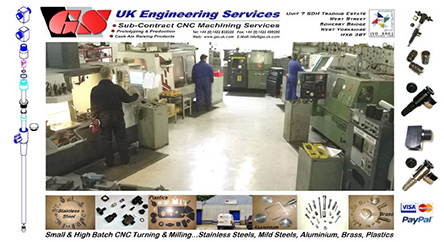 Gallery
Click to close
Products & Services
36 gallon Barrell Siphon
18 gallon Kil Siphon
9 gallon Firkin Siphon
Vertical Cask Ale Extractors
Stainless Steel Non Return Valve
2 Outlet Top Adapter
1 Out Top Adapter
Gland Follower
Silicone Gland Rubber
Stainless Steel Broach
Stainless Steel Collar
Plastic Broach
Plastic Collar
Ale Extractor spares
Ale Extractors
Vertical Ale extractors
GS Services UK Serves The Following Areas
GS Services UK General Description
ale extractor spares emimec spares yorkshire beer cellar equipment yorkshire cask ale equipment yorkshire beer dispense equipment yorkshire Ale Extractor Components ale extractor spares yorkshire