Time and date
CONSTRUCTION DIRECTORY
easi-edge ltd

Contact Details
Address
Ollerton Road
Tuxford
Newark
County Nottinghamshire
NG22 0PQ
England UK
About easi-edge ltd
easi-edge Safety Solutions
easi-edge specialise in the supply of edge protection barriers and safety equipment for the construction industry to prevent falls from height.
With a wide range of fixing solutions available to suit the variety of frames available today, including structural timber frames, we are confident we can find the right solution for you. We also have a variety of complementary products available for hire and sale.
At easi-edge customer service and innovation set us apart from the rest. Our products are quality assured and have gone through rigorous testing to ensure they are effective at preventing falls from height.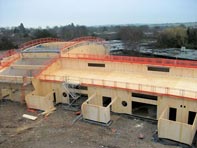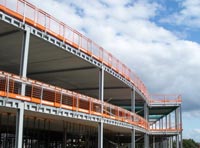 Edge protection barriers
easi-edge barriers offer the ultimate protection from falls at all times. Installed at ground level the barriers are hoisted into position using a crane. The barrier solution is available in a variety of fixing solutions for steel, concrete and timber frames.
Free standing barriers
Our free standing barriers are ideal for pedestrian segregation or for directional use on building sites.
Stair barriers
Our stair barriers are easy to install and are surface mounted into the pre-cast stair or drilled on site.
trail-arrest
The trail-arrest system prevents falls from vehicles whilst loading and unloading with a robust steel frame and strong safety netting that is quick and easy to install.
bay-master
The bay-master provides constant protection for those working on platforms and elevated levels such as loading bays. The system comprises a unique swivel mechanism which prevents falls at all times.
core-safe
core-safe has been specifically designed to secure lift shaft voids during building work. The double gated system provides offers a complete safety solution, preventing unauthorised access and objects falling into the void. With interchangeable panels allow various widths of openings to be protected, with adjustable clamps to suit various lintel heights.
You'll not find a better service anywhere else...
Ensuring our products arrive on time and to your deadlines is our priority. The easi-edge outstanding support service includes:
Nationwide sales support
Technical detailing and support
Total project management
Organise deliveries and collections to suit your requirements
Indexed equipment and supply of marked up drawings for easy installation
Field Engineers support available throughout the project
Problem solving
EPF Accredited training
Not only do easi-edge offer outstanding safety solutions, we also provide exceptional customer service. From design to installation, the easi-edge team is behind you all the way. Dedicated Technical Advisors and Field Engineers are assigned to individual projects to ensure all customers receive the highest standards of service and the best possible advice.
Training
Falls from height continue to be the biggest cause of injuries within the construction industry. So, in addition to our easi-edge protection systems we also provide a support service in the form of training.
We offer onsite training and toolbox talks at the start of each project, designed to give operatives an understanding how the system works and how to install it correctly.
In addition, we also offer a one-day course which is based on the correct procedures and standards required for use of proprietary edge protection. It includes an introduction to safety solutions available to the industry today, a brief overview of Work at Height regulations and the use of edge protection systems. It also includes a practical demonstration on installation, inspection and dismantling of proprietary edge protection.
Alternatively, we also provide training at our Nottinghamshire head office, just minutes from the main A1 route. The site has contemporary offices complete with presentation space, a demonstration area and meeting rooms. We can also provide presentations and road shows, if requested.
Safety is easi-edge
Always at the forefront of design, we deliver the highest quality safety measures for the construction industry throughout the UK.
easi-edge ltd Serves The Following Areas