Time and date
CONSTRUCTION DIRECTORY
Wall & Ceiling Solutions

Contact Details
Address
6 Grantham Green
Easterside
Middlesbrough
TS4 3QS
About Wall & Ceiling Solutions
Welcome to Wall & Ceiling Solutions
Wall & Ceiling Solutions are experienced Shop Fitters, Dry liners and Suspended Ceiling Contractors/Installers based in the North East, in Middlesbrough, near Newcastle and Stockton-on-tees.
We provide a large range of services to accommodate all types of contracts or specifications. Our team includes experienced Dry liners, Ceiling fixers, Plasterers, Shop Fitters and Decorators.
We offer numerous Refurbishment Packages, including a range of Suspended ceilings, Wall linings and Stud Partitions to comply with any specification whether it requires, fire, acoustic or moisture ratings, with many different styles and systems, getting the best from your workspace.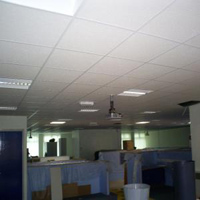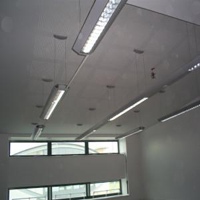 We are capable of matching or beating ANY competitive quotation on request and are able to carry out contracts through out the North of England, Scotland and Wales, Sheffield, Birmingham, Manchester, Liverpool, and London - in fact Nationwide !
Wall & Ceiling Solutions
are a family run contractor who works closely with their clients to produce a Complete and High Quality Solution tailored to their client's requirements. We have a good relationship with most of our clients and can provide references when requested.
We pride ourselves in Customer Care and our business ethic is our commitment to Quality; Never to oversell or Over specify, only to offer the Best possible advice and to provide the most effective and appropriate services to meet our customers needs.
We work throughout the U.K on numerous contracts of varied sizes, all completed to the Highest Standard possible.
We have sub-contracted for numerous larger companies on projects for Halfords, BNM, Barclays call centre, BHS, The Body shop and many more...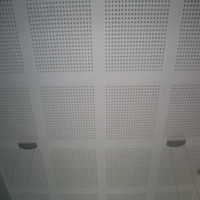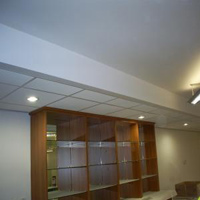 Wall & Ceiling Solutions guarantee Perfect Delivery on all our projects, saving our clients time and money, we provide our clients a finished project to what they expect and deserve.
Services
Demountable Partitions
Jumbo Stud Partitioning
Lighting
Access hatches
MF Ceilings
Finishings
Suspended Ceilings
Partition Systems
Refurbishment Package
Our partitions offer the perfect solutions to creating offices and meeting rooms to your exact requirements and utilising open spaces tailored to your needs.
They are available in basic types formed in Aluminum and they can be up to half hour fire rated. Aluminum sections are available in any B.S. colour. The partitions can be solid, half glazed, mid glazed or fully glazed, and either single or double blinds can be incorporated in any of the glazed options. Doors are available in many finishes with door furniture to suit.
We offer:
Demountable 50mm thick hollow core systems which are non rated to include doors or glazing options.


Demountable 75mm or 100mm half hour fire rate with glazing options.


Plasterboard stud and track partitions with up to one hour fire rating with multiple board options if required.


Varying levels of insulation standards or fire retardancy as required Acoustic boards.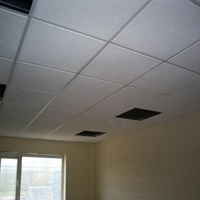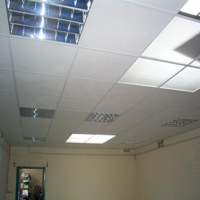 Wall & Ceiling Solutions Serves The Following Areas
Find Wall & Ceiling Solutions in