Time and date
CONSTRUCTION DIRECTORY
J Hare Ltd

Contact Details
Address
5 Wallace Way
Hitchin
SG4 0SE
About J Hare Ltd
JHare Diamond Drilling Ltd based in Hertfordshire was established in 1989 and has expanded to become one of the leading diamond drilling contractors in the UK.
This expansion has been achieved through years of customer satisfaction, and by establishing close liaison at every level within Main Contractor organisations. We hold Term Order Contracts with a growing number of major UK construction companies, and are always keen to forge new working relationships within the construction industry.
Operating from our offices in Hitchin, Hertfordshire with a fleet of over 30 vehicles, we are ideally positioned to cover all of London and the Home Counties and have carried out contracts throughout mainland UK and abroad.
Our base workforce of over 40 directly employed operators are all CSCS card registered, giving us a Platinum Commitment Award, and they all hold CITB Certificates of Safety Awareness and Certificates of Competence for the equipment they use. Our operators all hold NVQ level 2 in Specialist Concrete Occupations, and all have passed the Health & Safety touch screen test.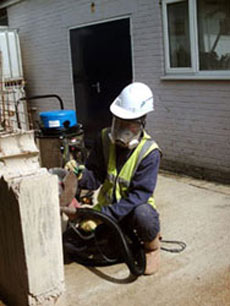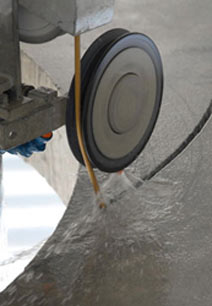 Chasing
Chasing is a quick and efficient method for cutting neat channels in brick or concrete, up to a depth of 100mm, commonly used where chases are required for conduits and pipe work associated with the Mechanical and Electrical trades. Useful in occupied areas as the works are dust controlled by attaching a dust extraction unit.
Diamond Drilling
Diamond drilling provides a very quiet precise and neat and non percussive way of forming holes wet or dry through all types of aggregates, e.g. concrete, brickwork and various materials, leaving no spoiling to either side.
Floor Sawing
J Hare have many types and sizes of floor saws ranging from petrol, diesel and electric to suit various types of cutting works. This takes into consideration external and internal works and different depths.
Wall Sawing
Wall sawing provides an efficient method for precise cutting by using a circular diamond blade on a track mounted unit, and is typically used to accurately cut door, vent and window openings, or similar, in any masonry, concrete structure up to a depth of 750mm.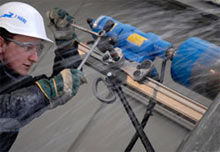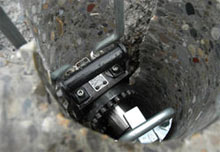 Wire Sawing
Wire sawing is ideal for cutting larger sections of masonry, reinforced concrete, as there are very few restrictions on the size and depth of openings required.
Hydraulic Bursting
Hydraulic bursting is a method of controlled demolition comprised of diamond drilling a series of holes in predetermined positions through the wall or floor in question, and then using the hydraulic burster to force the concrete to crack, therefore enabling removal.
Hydraulic Crunching
Hydraulic crunching is an all-round efficient concrete crushing method, for use in all general demolition contracts. Hydraulic crunching demolition is virtually emission free, i.e. they do not produce any noise, water, dust or vibration.
Robotic Brokking
Robotic demolition is carried out by our varied range of Brokk machines 40, 90, 150 and 180 to overcome any site requirements.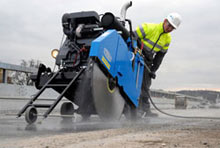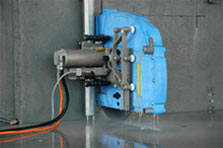 J Hare Ltd Serves The Following Areas
J Hare Ltd General Description
Drilling Contractors daimond blade specialists