Time and date
CONSTRUCTION DIRECTORY
MR Site Services

Contact Details
Address
Unit 6, Worcester Trading Estate
Blackpole
Worcester
County Worcestershire
WR3 8HR
England UK
About MR Site Services
The name Melvyn Rowberry is synonymous with on-site welding of thin gauge aluminium roofing systems.
The methods and procedures adopted by M.R. Site Services are tried and tested having been developed over 25 years -and the design of most soakers, hips, valleys and cranked sheets which are common on modern roofs owe their origins to the Rowberry name.
Attention to detail is obvious right from the start and all work is carried out to the highest levels of accuracy and quality. When completed, sites are left clean and safe -our record for safety is second to none.
Our expertise has been applied throughout Europe and across the Middle East, Far East, Africa and Asia.
M.R. Site Services provide a permanent one-fix solution- design it; weld it; forget it.
Benefits and features:
Insurance backed guarantees.
ENISO 9606-2 accredited.
PPG paint systems applications.
Back up systems and engineers.
Engineers are all CSCS card holders and fully trained –to up-to-date industry requirements.
24 hour service.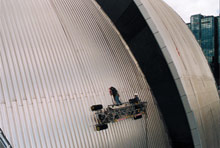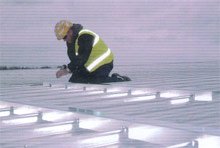 Site Welding
MR Site Services provide permanent leak-free solutions on joints and sheet shape modifications throughout Europe and across the Middle East, Far East, Africa and Asia.
Roll-a-flex
Roll-A-Flex is the weld-free method of adding external details to roofs and walls – regardless of material. Developed by MR Site Services,
Roll-A-Flex provides a true watertight seal on any profile or surface finish – from extruded or formed aluminium to concrete – and for a vast range of details including soakers and openings.
Access Hatch
Quantum is a low profile access hatch designed for mounting onto all types of flat roof, especially secret fix aluminium and steel standing seam roofs. Quantum access hatches are supplied with weatherproof insulated lids.
Walkways
Quantum is an attractive low profile walkway and handrail system which allows the specifier to provide lightweight roof access for maintenance purposes on any standing seam roof.
Handrail Systems & Telescopic Ladders
The welding of thin gauge aluminium roof materials was pioneered by Melvyn Rowberry in the early 1980s - and this early work has created one of the major success stories of modern British construction by creating an 'industry within an industry' which contributes between £8 million and £12 million to the UK economy annually.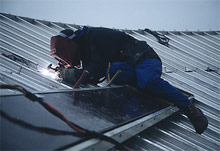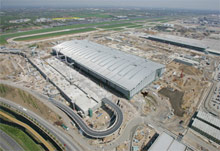 Snowguard
Quantum Snowguard has been designed following an extensive R&D programme specially commissioned by MR Site Services.
This research has resulted in the creation of a unique computer application which accurately calculates quantities by factoring the roof shape, slope and length against geographical location and 10-year snowfall data.
Leafguard
Quantum Leafguard provides a clever solution to the problem of blocked gutters and gulleys due to heavy leaf fall.
Designed to meet the demanding specifications of the UK aluminium standing seam roofing market Leafguard is compatible with most major roofing and rainwater systems.
Seam Clip
The Quantum Fixing Clip has been designed by M.R. Site Services to provide a strong, practical and versatile non-penetrative method of attaching safety and inspection equipment, including snowguards and walkways to most major standing seam roof profiles.
PPG Paint
M.R. (Site Services) Ltd was formed in 2005 to take advantage of this unparalleled knowledge and experience– and the company is currently working on projects with a total value in excess of £2 million. Although the core business of aluminium roofing represents a large part of this turnover, the company has introduced several new products in recent months. All of which are manufactured in-house.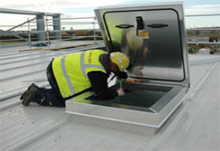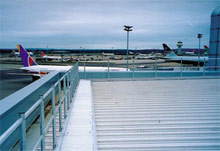 MR Site Services Serves The Following Areas