Time and date
CONSTRUCTION DIRECTORY
Address
6 Parklands Avenue
Castle business park
Holytown
County Stirlingshire
ML1 4WQ
Scotland
About NetRegs
NetRegs: helping your business, helping your environment
NetRegs aims to help firms cope with environmental law, giving their business a competitive advantage while contributing to the protection of Scotland's environment.
Supported by the Scottish Environment Protection Agency (SEPA), NetRegs is a UK website providing free environmental guidance for businesses. NetRegs can help in giving your business competitive advantages. Cost savings are often a by-product of environmental good practice, especially in terms of waste minimisation and in avoidance of 'fines' for poor environmental practice, so you could save money.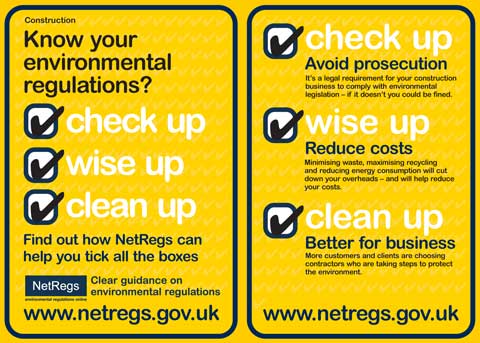 In a recent NetRegs survey, 52% of Scottish SMEs said they undertook at least one activity which could harm the environment. Of those surveyed 44% stated that harmful activities included, producing and importing packaging.
'In the UK, an average of 13% of all materials delivered to site
goes into the skip without ever being used.' (Source: CIRIA)
While not a legal requirement in Scotland, a Site waste Management Plan (SWMP) makes good sense and is good practice.
Identify someone to be responsible for resource management.


Establish what types of waste will be generated and whether it will be reduced, reused or recycled;


Which contractors will you use to ensure waste is disposed of appropriately?


How will the quantity of waste be measured?
You can test your knowledge with 'Sorting Out Site Waste' quiz and download the simple SWMP guide at:
www.netregs-swmp.co.uk
www.netregs.gov.uk
is straightforward and easy to use, you can search by business type and/or environmental topic. You can also use the recently launched self assessment tool – this allows SMEs to assess their environmental compliance.
You can also sign up for our FREE, tailor-made email alert service. This will provide information relevant to your business, direct to your inbox.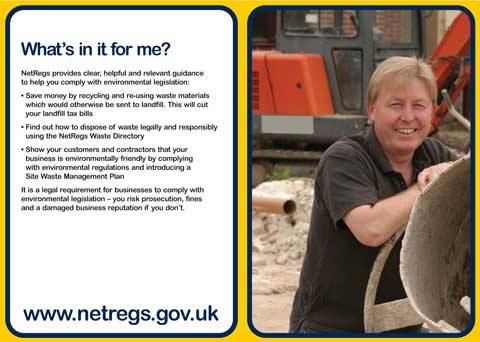 Visit:
www.netregs.gov.uk
today and find the environmental guidance you need.
NetRegs Serves The Following Areas