Time and date
CONSTRUCTION DIRECTORY
Easy Price Pro Ltd.

Contact Details
Address
The Software Centre
Wattisfield Hall
Wattisfield
County Norfolk
IP22 1NX
England UK
About Easy Price Pro Ltd.
Easy Price Pro know what you want… you want a quicker, easier and less stressful way of producing estimates. We know that because so did Paul Betts, the builder who designed Easy Price Pro's range of professional estimating and management programs.
After spending many late nights and weekends at the office struggling to produce accurate quotations that met the client deadlines and trying to keep on top of the existing jobs the company was running at the same time, Paul decided that he'd had enough of estimating the hard way and went to look for a solution. Paul was unable to find a useable estimating program for his business, so he took things into his own hands and designed his own estimating solution based in Microsoft Office Excel.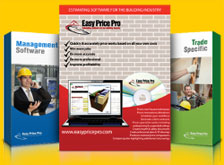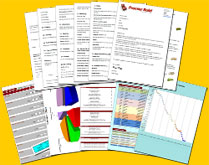 In 2001, almost 10 years later, having seen how the program had benefitted his own business and after investing nearly two years into making what was a personal estimating tool, into an accurate, easy to use estimating program alongside his dedicated development team, he launched Easy Price Pro; a company that would revolutionise estimating jobs for the better…
After the massive success of New Houses and Extensions Estimator, Paul wanted to expand and help other trades that were struggling with estimating… so, with the help of fellow tradesmen, Easy Price Pro created specialist estimating programs to suit all trades such as electricians, plumbers, roofers, bricklayers, ground workers and many more. After listening to customer's feedback, Paul also expanded the programs EPP produced to cover management programs such as Health and Safety Plus, Easy Builders Contract and so on.
Easy Price Pro's revolutionary estimating and management software has helped thousands of businesses, with the professional reports and quotations the programs automatically produce – clients can't help but be impressed.

The programs are available in Euros and Sterling and they generate a full, written quotation as well as a bill of quantities, material order sheets, summaries and work and payment schedules – all based on the information you've entered in the Pricing Sheet. Free, no obligation demonstrations are available from Easy Price Pro so you are able to fully evaluate the software with your local, expert consultant before investing.
Easy Price Pro Ltd. Serves The Following Areas
Find Easy Price Pro Ltd. in