Time and date
CONSTRUCTION DIRECTORY
Robin Baker Architects

Contact Details
Address
Tower Buildings
Station Road
Dunkeld
County Perthshire
PH8 0DS
Scotland
About Robin Baker Architects
Robin Baker Architects
are a practice of award winning architects located in Birnam, near Perth, working on projects throughout Scotland.
We approach each project by assessing the site and the client's requirements before proposing a unique solution, based upon over 25 years' experience. Our approach to sustainable design means that we respect the natural and historic environment and the surrounding landscape or townscape.
Whether we are designing a new building or altering an historic building we draw out the specific qualities that exist in that particular building and site. Therefore our designs are extremely varied.
With the Climate Change (Scotland) Act 2009 containing the most ambitious targets it is now essential to ensure that both new and existing buildings are made low carbon. Insulating well and building with airtight construction requires proper ventilation and ensuring that we breathe clean air unpolluted by toxins. We devote considerable effort into sourcing eco-friendly materials that are affordable for our clients.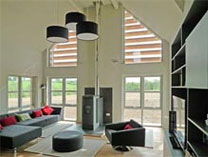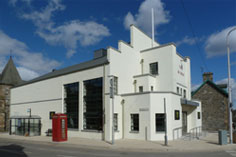 Robin Baker has been a registered architect since 1984 and gained many years of experience designing private and social housing and working on urban regeneration projects in Yorkshire.
In 1992 he moved to Scotland to work with Howard Liddell, the founder of Gaia Architects, and then in 1996 established his own office, trading as Gaia Architects Aberfeldy until October 2008 when he founded Robin Baker Architects.
Services
We offer a personal and friendly service creating unique, site-specific buildings informed by our specialist knowledge of sustainable design and ecological building materials.
Robin Baker is an associate member of the RIAS (Royal Incorporation of Architects in Scotland) and is a past chairman of SEDA (Scottish Ecological Design Association).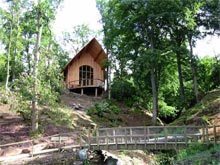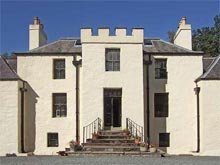 Residential
The majority of our work is private housing. We design low energy site-specific houses and groups of houses. We also design conversions, restorations and alterations to existing houses to improve their comfort and energy efficiency.
We collaborate with developers and social landlords on rural and urban housing developments.
Community & Culture
We have worked with community groups, churches and charities to provide arts, leisure, educational, tourism and sports buildings.
Sustainable Design
Our approach is to combine good design with sustainable building materials and appropriate technology to create healthy buildings that are suited to the specific features of their location and meet the needs of their users without exceeding the agreed budget.
Historic Buildings
Building on Robin's experience working in Yorkshire and Scotland and Grahame's experience during the past 25 years we are able to restore and renovate historic structures in a sympathetic and appropriate manner, understanding the historic materials and methods of construction.
Timber Structures
We enjoy designing innovative timber structures and working with engineers and craftsmen who understand the structural properties and qualities of timber whether for traditional carpentry, engineered structures or fine joinery.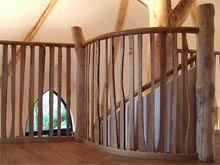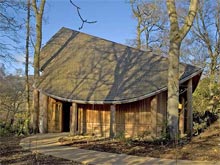 Robin Baker Architects Serves The Following Areas
Find Robin Baker Architects in