Time and date
CONSTRUCTION DIRECTORY
SEE-IT-3D

Contact Details
Address
Axwell House, 2 Westerton Road
East mains industrial estate
Edinburgh
EH52 5AU
Scotland
Thursday
08:30 am-06:00 pm
Monday
Tuesday
Wednesday
Thursday
Friday
Saturday
Sunday
Closed
Other Dates
You can contact us outside normal business working hours by email as shown above and we will promptly respond. Thank you
About SEE-IT-3D
Business Services
Trimble Sketchup Pro 2018 Certified Software Sales & Training Centre in UK
UK Leader in Design Software Sales for Design & Construction
2D/3D CAD Drawing Services & BIM Consultancy
2D & 3D/CAD/BIM Vectorworks Design Software Sales & Training
3D Modeling Bureau Services to Designers, Contractors and Stakeholders
3D Rendering Software Sales and Training...V-Ray, Artlantis, Shaderlight, Renderlights, SimLab Soft
Graphics and Visualisation Services
Construction Anmiation and Workflow Sequence Services
Trimble Sketchup Pro 2018 Certified Software Sales & Training Centre in UK
UK Leader in 3D Design Software Sales and Training for Design & Construction
CAD & BIM Consultancy Services
Official Vectorworks BIM building SMART Members, Design Software Sales & Training Providers
Facilities Management and Construction 3D Modeling Services
See-It-3D Welcomes You
We are a premier leader in offering the best in-class 2D and 3D professional design software solutions to the AEC Market for Architecture, Engineering and Construction.
Our Strongly established 3D SketchUp skill sets and training system has been formed from many years of promoting and educating many small-sized to global leading businesses since the early days as Authorised Trainers firstly with @Last Software (Original SketchUp Creators), then as Google's first and longest established Authorised Training Centre for UK and Europe, and now with Trimble as their GOLD Partner for Sketchup Pro 2018 Authorised Training Centre serving the United Kingdom.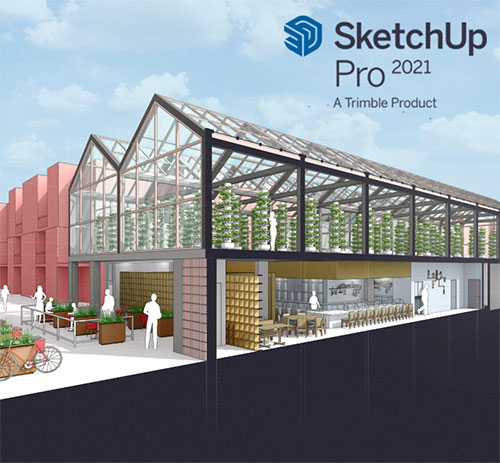 We continue to successfully deliver flexible and powerful software and hardware sales, training, consultancy and support services to all clients and professionals wishing to succeed in design, AEC and BIM environments using a combination of computerized 2D drafting, 3D modeling and visualization approaches within the design and construction arena.
Supporting our clientèle enables them to flourish using our new technology and expertise to greatly improve in-house design teams knowledge and skills by providing the best software solution for current and future projects. Our proven track record of satisfied clients continues to thrive in delivering solutions and expertise to streamline and improve their existing workflows and services to clients.
We support new and existing clients in UK, Europe and worldwide so whether you are a student of design, a design professional, and business owner or part or a multi-national or overseas business, we can advise and deliver the best in standard and tailored solutions to you.
Our product range includes leading 3D applications..
Trimble Sketchup Pro 2018 - LayOut and Stylebuilder.
Moi3D- Moment of Inspiration
1001bit Pro,1001Shadows
SimLab Soft 3D Plugins
Nemetschek Vectorworks 2018 CAD/OPENBIM
V-Ray for SketchUp
SU Podium
Artlantis Render/Studio
Renderlights
Piranesi
3DConnexion SpaceMice Hardware
Dell and HP 3D Custom Workstation Desktops and Mobile Computer Sales
Training and support go hand in hand with the software programmes, and ensure that clients get the best possible hands on training suited for their individual needs.
For customised and bespoke training, give us a call and we can incorporate any existing projects within the training to help you achieve your goals.
As a company we have a mission to bring precise 2D and 3D design exploration tools easily and affordably within the reach of every day users. Our main focus is especially to make "Your Dreams Our Skills" using 3D. A reality and not just a dream. That mission is realised through the portfolio of software options we currently offer that will suit any companies needs and budgets. We have the answers and they are proving very successful!
SEE-IT-3D brings innovative modelling, photo realistic rendering, drawing composition, and precise translators into the demanding world of presentation, communication and computer aided design CAD and BIM communities. Our proven track record continues to opening up new avenues wider field and worldwide.
We look forward to working with you.
Should you have any questions or further needs please feel free to contact me at any time.

+ If you like your new product and our service then please go back to our Webstore and give us a Rating!
Reviews & Testimonials for SEE-IT-3D

October 26, 2016
The support team answered fast and explained well our support issue. Along with very easy online ordering we received our items on the same day. Thank you.


Testimonial by
Jen Ogilvie

June 18, 2014
A few years ago I was fortunate enough to enjoy a one-on-one training day with James Ogston. Under James guidance it didn't take long for me to realise just how straightforward and intuitive SketchUp really is. His depth of knowledge and understanding of the programme, and how it interfaces with other software (software on which I have to say he also appears to have a total grip) is enviable.I have become a committed and frequent user of SketchUp and in part this has been down to James help and guidance.As a footnote I would add that since then he has, on occasion, given me advice, either by phone or skype, and this has always been done clearly and with good grace.
SEE-IT-3D.

5

out of

5

based on

2

ratings.
Gallery
Click to close
Products & Services
Drawing Bureau Services
3D Design Software Resellers
2D/3D CAD-BIM Consultants
Project Based Design/Modeling and Rendering Services
Visualization Services
3D Modeling Training
Trimble Survey Services
SketchUp Extensions
CAD Workstations
Vectorworks Training
SketchUp Training
CAD Training
BIM Software
CAD Software
Twitter Feed

Facebook Feed
Location
SEE-IT-3D Serves The Following Areas
SEE-IT-3D General Description
SketchUp pro 2018 uk training 3d modelling and rendering scotland sketchup software scotland 3d design software uk sketchup pro training england sketchup pro training ireland sketchup pro 2017 vectorworks Architect BIM Sales training support